Happy Monday Lovers and Happy Halloween! Have a great day and to my nephews back home in the United States, have a wonderful time Trick or Treating! I can't wait to see your costumes! I hope you all have a fantastic Monday, start the week on the right foot, set a goal, go out and get it done.
I am happy to say I survived my first week in France, even without Starbucks. (Limoges doesn't have one, but I am told Paris does, so that will be a treat when we visit.) I am settled, adjusted to the time difference and loving life. I can't tell to how different this experience has been then our experience in Greece, in a much better way. Not that Greece was a horrible experience, it was just very different from the life we are able to have here in France.
This weekend was a great one, I got to watch the manfriend kill it in his game. He went five for six from the three point line and ended the game with 19pts. Limoges CSP was victorious and are still undefeated, pretty impressive and it's really fun to watch. After the match, we enjoyed champagne, macaroons and eclairs with the season ticket holders, it was really fun.
Yesterday the manfriend and I got up early and went into the city to do some exploring. I love the European feel in the city, the winding streets, I fell in love.
I finally whipped out my camera and snapped away, I have to admit I've been off my picture game. The only crappy thing about Sunday's in Europe is that everything is closed, something that I'll never get used to, growing up in New York where everything is always open.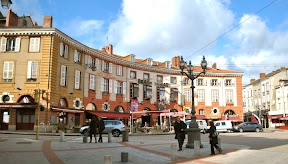 Later in the day, Kyle's college roommate and teammate, Ryan, came to visit. He plays in the same league as Kyle and lives only 45 minutes away. It's so nice that he is so close, to have that familiarity is awesome while living abroad. We enjoyed the rest of our Sunday drinking wine from Bordeaux, watching the Notre Dame football game against Navy, that we DVR'd. We also enjoyed some yummy chicken parmesan that I prepared and an apple crisp desert, for a second I thought I was back home.
At this moment, life is good. The manfriend and I don't have everything figured out, but that's ok. There are so many amazing things that we are thankful for, to be able to live over here in France is a once and a lifetime experience. We were informed that we will get our puppy on November 21st, which only makes things even better. We are creating our own little family and it feels good. I used to get nervous about where my life was heading and the fear of not knowing scared me at times. But I do know one thing is for certain, wherever I end up in life, as long as my guy is with me, life is good. I couldn't ask for more. (Barf, so mushy.)
Have a great Monday and an even greater week. Remember what the great John Lennon said, Life is what happens, while you are busy making other plans. So, live with purpose, live with conviction, live with as little or no regrets as possible. Stop worrying about what is next, focus on what is NOW.