Hey there my beautiful Jeans and Tees and Travel and Cakes readers, hope your weekend was fabulous. I can't believe we are six days away from Christmas, it always sneaks up on you like that, no matter how prepared you are.
I had a very festive weekend, that was almost ruined but thanks to my great family it ended up being quite memorable. Saturday night after having a wonderful dinner at my parents house I came back to my apartment, turned on some preseason NBA games, poured myself a glass of wine and decorated my Christmas tree. Even though I was alone, I really enjoyed myself, hanging up special ornaments I've collected from over the years and making sure the tree looked perfect.
I ended my night taking a picture of my first Christmas tree and sending it to Kyle in France, then I was off to bed. I'm not going to lie, what happened next was terrifying. In the middle of the night, I was woken up to the sound of a crash. Startled, I didn't know what was going on, for a quick second I thought I was being robbed. Half asleep, I cautiously came out of my bedroom to see what was going on. My heart sank as I looked across my living room and saw the tree that I had worked so hard on lying on the floor and broken ornaments thrown all over. I picked up the tree but the debris it left behind was overwhelming, I decided I'd assess the damage in the morning.
When I woke up I thought for a moment, maybe it was all a nightmare, I'd walk out of my bedroom and see the tree that I decorated standing tall ornaments and all, well I wasn't dreaming. The scene was ugly, there was broken ornaments everywhere, the star on the top of my tree was lying in the kitchen, more then half of my ornaments were destroyed. I was holding back tears, realizing that people are going through a lot worse in their lives, but it was the sight of my keepsake ornaments in pieces on the floor that drove me over the edge.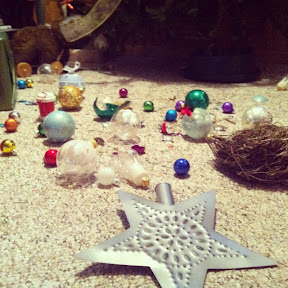 My dad came to the rescue, he showed up at my apartment with my signature Starbucks drink knowing that would cheer me up, he also brought wire to secure the tree so I wouldn't have anymore crashes. After he helped me, I stood and looked at my now bare tree, my heart sank the Grinch was really trying to steal my Christmas!
Word got out to my family and what happened next was something of a little Christmas miracle. In one days time I received enough ornaments to decorate two trees, a huge thanks to my Uncle Kevin & Aunt Robin, my mom for making me some wonderful bows and Kyle's parents who gave me a huge chest of ornaments. Last night I went to work hanging my new ornaments with care, cherishing every one I hung and realizing how great family is. As I went to bed I prayed that my tree would stand shining and thank the Lord, when I woke up this morning it was standing tall.
Now this tree and the ornaments that hang mean even more to me. I can now tell my future kids about the Crash of 2011 that almost brought my Christmas to a halt and how my family swooped in and saved the day.
Best,
Meggie