I would consider myself a seasoned traveler, since my life's path has taken me to places all over the world. Traveling was always something that I wanted to get into and I was kind of lucky in the fact that traveling fell right into my lap.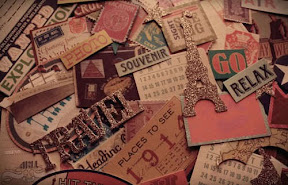 Today as I was standing on the train platform about to board the TGV from Limoges, France to Paris, the first step on my journey home to New York, my manfriend Kyle made a pretty cool observation. He said, "It's pretty amazing, we started the year living in Greece, we'll end our year in New York and we'll be starting a whole new year in France. It's crazy where you can end up in a year." I couldn't agree more with him and even though it was extremely hard watching Kyle stand there on the platform as I pulled away, knowing we won't be together for our favorite holiday Christmas, I do count myself very lucky to be given the opportunities to see the world.
I am actually writing to you from a few thousand feet up in the sky, in a tin can going a couple of hundred miles an hour. For someone who loves to travel, I am not the biggest fan of flying, which is funny because I do it often. I should correct myself, I'm not the biggest fan of traveling alone. However, there is this weird sense of accomplishment while I sit here in my seat with not enough leg room, most travelers would know what I am talking about. I always compare it to this feeling I get when I go into Manhattan, where I have my own routine, this tiny being among millions, in the greatest city in the world, just doing my thing, you feel badass, well I do at least and that's also how I feel about traveling.
Here is what I've learned from traveling so far, I believe it's an art you pick up over time and trust me I'm still learning a lot.
When it comes to packing less is more, this is coming from someone who is a fashion junkie. I've come to realize after years of overpacking that you won't wear half the stuff you pack. Go simple, stick to the basics. I have to commend Kyle, who is the master of packing only a carry on for international flights, I'm not quite at that level yet and I know he cringes when we have to wait at bag check, when we can be out there exploring.
I have a love hate relationship with airports. I love arriving but I hate absolutely hate departing, because I know I'm always leaving someone. I'm a nut but because of this relationship with airports I can't watch the following movies which contain airport scenes; Going the Distance, Like Crazy (Here's my advice for anyone that's in a long distance relationship, DO NOT WATCH THAT MOVIE! You've been warned.), The Family Man, and the first and last scene from Love Actually. I do however like airports because you get to people watch and wonder where people are coming from or going to. (Hint to crack that wonderment, look at what gate their sitting at, it will most likely tell you just exactly where they're going.)
What you pack in your carry on is essential to surviving any trip. For me, I always make sure I have an e-book or two uploaded onto my iPad, along with some magazines. Don't forget your headphones. Make sure all your electronics are fully charged and if you are neurotic like me, put a charger in your bag, you never know when you might get delayed. For the ladies, always carry a small makeup bag, I know I always like to freshen up before getting off the plane (haha). I also always carry hand sanitizer, a small pack of tissues and some snacks. If you are traveling internationally, passport and some of the country you are visitings currency, I always like to carry some change, you never know what situation could pop up.
Traveling should be fun and make you feel like an adventurer. Always give yourself enough time when arriving at an airport or train station, etc., no one likes to rush.
So now that I've written to you about my love of travel, and how I tackle it, go see the world even if it's just a car ride away.